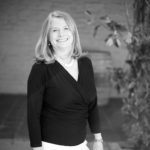 I have an invitation for you all to join the beta group for my course,
The Magic of Productivity!
Here's the skinny:
The Magic of Productivity!
Plan  *  Prioritize  *  Produce
I invite you to be part of a fabulous, handpicked group beta-testing my brand-new program—and see what MAGIC you can create in 6 weeks (1 week off for Thanksgiving).
Who: A committed group of entrepreneurs, frustrated by working and managing time inefficiently—and ready to master new skills.
What: Beta Program
Why: You want to supercharge your planning and productivity and get better results in your business and your life
When: Calls on Tuesdays, 12-1pm Pacific Time (10/25, 11/1, 11/8, 11/15, 11/29, 12/6)
Where: Live calls via Zoom
Here's the plan.
What you can expect from me:
Six pre-recorded modules delivered every Wednesday starting Oct. 19.

Access to me through our live Zoom Q and A calls.

Worksheets and handouts to support your learning, and take immediate action in YOUR business and life.

Help on the calls developing your vision, prioritizing, and getting into action.

Coaching as needed on the calls.
What I can expect from you:
To watch the videos (I'll keep them short and sweet, or you'll let me know!)

To attend all the calls, so we can answer questions and support each other, and I can get feedback on how it's all working for you

To be communicative. (I want your honest feedback so I can work out any kinks in the program.)

To participate and be open—offering your voice, process, inspiration, and guidance to me and other participants in the group.

To do the exercises and answer the questions, so you get the full value of the program, and develop new habits.

To complete each of the short surveys I send you.
What you'll learn and apply directly to your business and life:
– A powerful method to capture all the details you manage in business and life, so nothing falls through the cracks.
– How to prioritize, so you can focus on what matters and know what to do when.
– How to focus—no matter the distraction—so you get things done
– How to organize your life and tasks–and keep it going.
– The importance of self-care and nurturing your most valuable asset
– Mindset adjustment (because it doesn't have to be difficult!)
– Why working harder, faster, and longer is a myth!
– How to stay in the flow and stay connected to your why
"I believe the more you master productivity, the more magical your life can be—and I can't wait to teach this material and see what magic you can create in your life and business."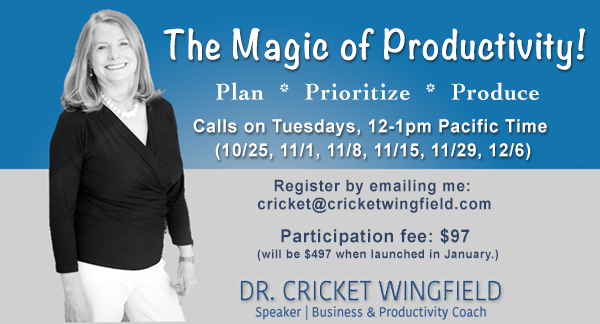 LIMITED TO 12 PARTICIPANTS. ONLY 6 SEATS LEFT.
As this is invitation-only and not open to the public,
please let me know if you want me to hold a seat for you,
before I spread the word elsewhere.
 
When you register, you will receive all the program details.
Register by emailing me: cricket@cricketwingfield.com
Thank you! I hope you'll join me!
~Cricket